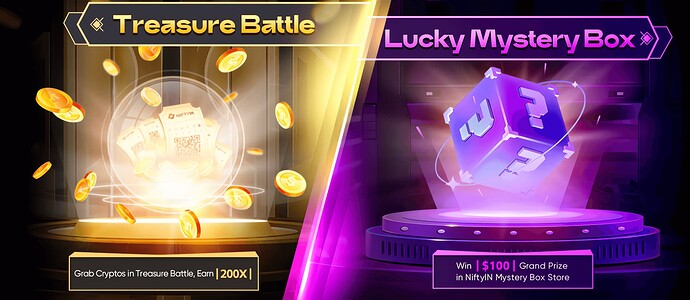 NiftyIN new version is coming, Mystery Box Store officially opened! "Treasure Battle" and "Lucky Mystery Box" activities public beta is coming soon, surprises are endless, more than 20,000% super rewards waiting for you to win!

Mystery Box Gift List:
This public beta opens "Application Session", "Game Session", "Mixed Session" three major theme Mystery Boxes, containing Apple iTunes coupons, Google Play coupons, Razer Gold limited NFT, Mobile Legends limited NFT and other valuable gifts, entertainment and application are both good, more for recharge ChatGPT essential products. There is also NiftyIN sunshine award to bring you 200 $LAT warmth.

Public beta time: 2023.06.16 12:00 UTC

Activity link: https://niftyin.xyz/mintSquare