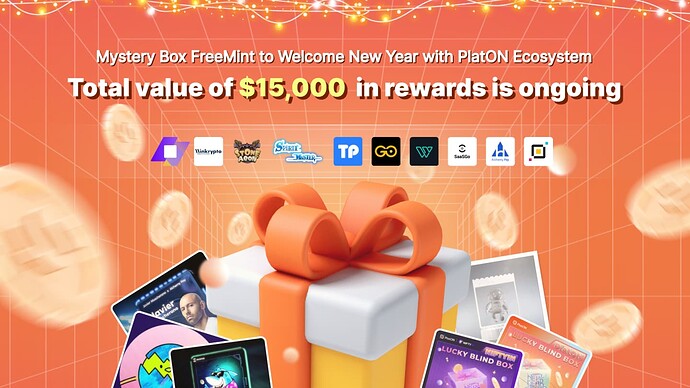 To our community members,
With 2023 just around the corner, PlatON joins hands with its ecosystem partners to bring New Year's gifts. We specially hold the "Mystery Box FreeMint to Welcome New Year with PlatON Ecosystem" and wish everyone a happy new year!
Event time: 12:00 (UTC) on December 31, 2022 - 12:00 (UTC) on January 7, 2023
How to join:
During the event, you can mint a mystery box NFT for free on the event page. After opening the box, you can get the reward based on the NFT minted.
New year lucky mystery box: 50 $LAT, 810 in total
PlatON lucky mystery box: 500 $LAT, 200 in total
NiftyIN lucky mystery box: 500 $LAT, 200 in total
StoneAeon lucky mystery box:15,000 $SCGT, 200 in total
Spirit Master lucky mystery box:10 $SMR, 140 in total
TokenPocket lucky mystery box: KeyPal Hardware Wallet * 1 or KeyPal Secret Box * 1, 3 in total
GoSpace lucky mystery box: GoSpace Genesis Meta DID NFT * 1, 20 in total
Woo3 lucky mystery box: WOO3LabPass * 1, 100 in total
SaaSGo lucky mystery box: SaaSGo Origin Sharky NFTs * 1, 200 in total
Alchemy Pay lucky mystery box: 200 $ACH or Javier Mascherano or Alchemy Pay Co-branding NFT, 130 in total
Super lucky mystery box: 5,000 LAT & StoneAeon character NFT*1, 20 in total
Notes:
A total of 2,023 mystery boxes will be released. All users will get rewards based on the NFT minted. Good luck!
Anyone who receives rewards by improper means will be disqualified. Thanks for your understanding.
Statistics:
Mystery boxes will be opened at 12:00 (UTC) on January 7, 2023, and the snapshots of the addresses of all box holders will be captured (if you submit an order for your mystery box in the NFT marketplace, please note whether the mystery box NFT is registered under your address) and announced in the community. Please follow it up.
For those who have received a physical reward, please contact our service staff at NiftyIN Discord to verify your address and provide your mail.
Reward delivery:
The rewards will be delivered within 7 working days after the event.