Project Progress
PlatON Network
Launched PlatON 0.13.0 on the new Baleyworld
Completed the upgrade of ATON wallet address and added the governable parameters of economic model;

Added the parallel transaction function, and optimized part of the codes.
Supporting Tools
Launched PlatScan 0.13.0, MTool 0.13.0 and ATON 0.13.0 on the new Baleyworld test net, which introduces the upgrade of ATON wallet address format, and be compatible of PlatON 0.13.0

Upgraded the Check Reward system to accommodate the reward inquiry with both previous wallet address and upgraded wallet address.




Upgrade of Baleyworld Test Net
Completed the upgrade and verification of PlatON 0.13.0 smoothly from Jul.9 to 10, 2020. The upgraded Baleyworld test net works well, and there have been 46 validators joined PlatON Baleyworld test net so far.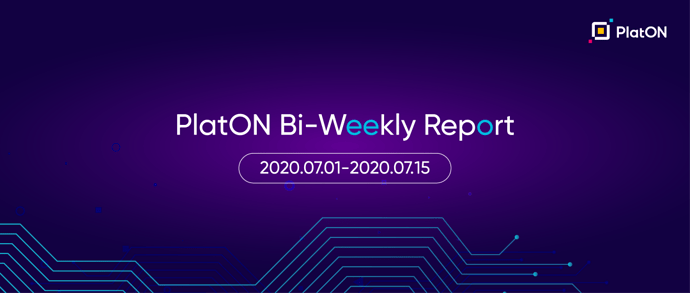 News
1. PlatON Introduces PlatON 0.13.0 with the Whole New Address Format and the Parallel Transaction
On Jul.9, 2020, PlatON launched PlatON 0.13.0, the latest version of new PlatON Baleyworld test net. PlatON 0.13.0 introduces a whole new address format of its crypto wallet ATON, adds the governable parameters of PlatON economic model and parallel transactions, and presents smoother user experience with part of optimized codes.
2. PlatON Shared the Instruction Manual to Help Users Better Get Started with PlatON 0.13.0
On Jul.9. 2020, along with the announcement of PlatON 0.13.0, PlatON shared the instruction manual with the release note of ATON, influence statement, reward inquiry and Q & A included to guide users to better get started with PlatON 0.13.0.
3. PlatON Chief Architect Shenglin Li Made a Deep Interpretation and Review of Parallel Transaction in His Article
On Jul.13, 2020, PlatON Chief Architect Shenglin Li made a deep interpretation and review of parallel transaction, the newly added function of PlatON 0.13.0 that enhances the overall performance by 30%, in his article. He introduced and analyzed the algorithm and processing of serial computing and parallel computing.
4. The Head of PlatON Community Kai Yu Talked about How Privacy-Preserving Computation Can Facilitate the Digital Market with Blockchain as a Special Guest of Industrial Blockchain Talks
On Jul.2, 2020, the Head of PlatON Community Kai Yu, as the special guest of Industrial Blockchain Talks hosted by Milin Finance, talked about the solutions that PlatON's privacy-preserving computation provides, the use cases, and how the powerful combination of privacy-preserving computation and blockchain facilitates the data-element-oriented market.




5. PlatON Senior Researcher Dr. Xia Talked about the Values of Computing in the Live PlatON Hosted with Ourea Group
On Jul.10, 2020, PlatON hosted a live focusing on "Let's Us Compute, the Tour with Business Network and Developers" with Ourea Group. PlatON Senior Researcher Dr. Xia talked about the values of computing based on the scalability, value of privacy-preserving computation, cryptography and AI framework of PlatON.






Community
PlatON Hosted Its First AMA in SEA with the Indonesian Ambassador Nano News
On Jul.12, 2020, PlatON hosted its first AMA in Southeast Asia with the Indonesian ambassador Nano News. The Head of Community Kai Yu, as the guest, shared the latest updates, further plans on both project and market, and even the name origin of PlatON in the AMA hosted in Nano New community. "We are open to the collaborations on hosting different events and enhancing our community, and this is just the first step of our community in SEA" Mr. Yu emphasized.






Ecosystem

Rosetta
Project Progress:
Overall completion progress of Rosetta v0.2.0: 96%
Completed the implementation of basic operations based on Helix, and the unit tests and integration tests get approved

Completed the correctness verification of gradient operations of Rosetta Helix & SecureNN;

Implemented PrivateInput and DataSet APIs in Python layer;

Optimized the structure of python layer;

Completed the verification of Turorials, which has got approved.

PAI Data Asset Exchange Project
Project Progress:
Completed the development of PAI 0.4.7 with newly added features as follows:
The enterprise verification of business entities;

The Blockchain Wallet Management and Audit Management on the auditor's local Privacy-Preserving Computation Safe Box.




News:
In early July 2020, aitos.io CEO Leo Lin was invited by Fibocom, the leading IoT module provider, to talk about "Blockchain IoT Module: A perfect solution for data On Chain for New-style Infrastructure."

On Jul.5, 2020, aitos.io was select as one of the finalists of Privacy-Preserving Computation TOP30 by 算力智库 during Hangzhou International Blockchain Week 2020.